New videos !
I am very happy to show you six new videos we made with my trio, with new compositions.
Recorded live at Werkplaats Walter by the very talented Vincent Blairon (video) and Vincent De Bast (sound), and featuring Boris Schmidt on doublebass and Daniel Jonkers on drums.
Doubt – Martin Salemi (Live Session)
Remembered – Martin Salemi (Live Session)
Still Water – Martin Salemi (Live Session)
When Days Are Getting Longer – Martin Salemi (Live Session)
Lamento – Martin Salemi (Live Session)
When It's Done – Martin Salemi (Live Session)
Martin Salemi – Pianist/Composer
Welcome to the website of belgian pianist and composer Martin Salemi. Here you can find tour dates, pictures, videos, full discography and music. Thank you for visiting !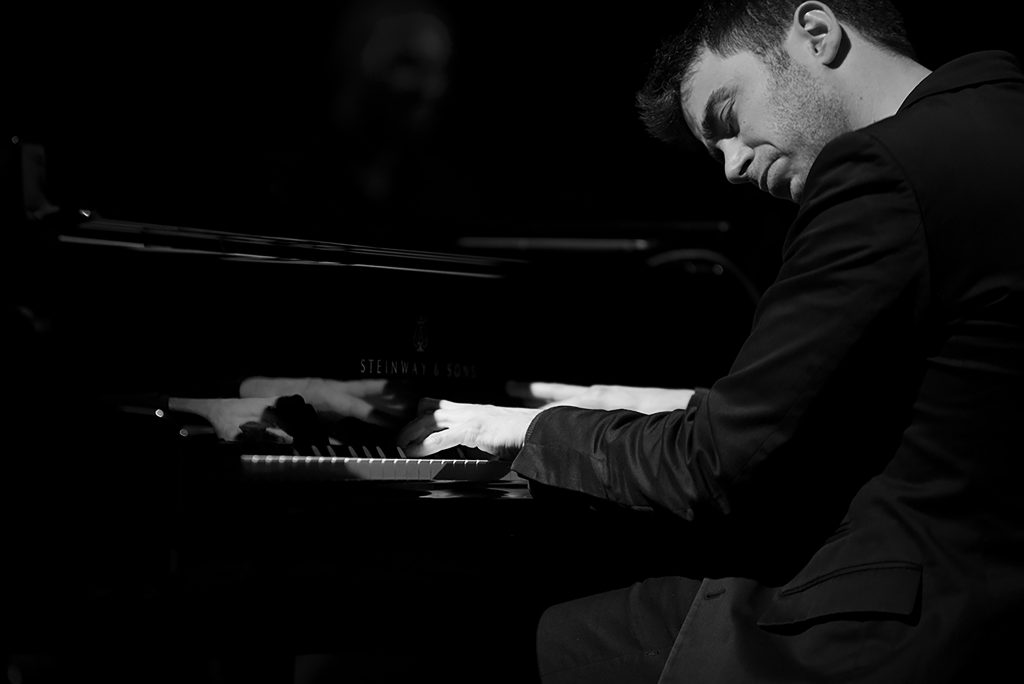 Martin Salemi was born in Brussels in 1988. His parents are both artists. His father, who plays the guitar, initiated him to music at a very early age. He started learning the piano aged six and, in 2013, completed his jazz piano master's degree with distinction at the Koninklijk Conservatorium van Brussel.
Martin is interested in all types of music and in various piano styles and, in addition to jazz piano, he has had the opportunity to experience classical as well as salsa, funk, pop and rock music.
Very early on, in addition to his instrumental work, he developed an interest for composition. He started recording albums very young – first cassettes, then CDs – which he shared with family and friends.
Martin is currently involved in two personal projects. OPMOC, who have already recorded three albums and have toured internationally several times, and the Martin Salemi Trio, who released their first album in 2017 under the Igloo Records label.
In 2018, Martin won the B-Jazz International Award with the Martin Salemi Trio.
---
« I really can't praise this album highly enough. If the reader gets the feeling from the above review that I didn't quite describe Salemi's playing in enough detail, it is only because there is so much detail that it's better to just listen and not analyze too much. Get it! »
(Lynn René Bayley, Artmusiclounge, about "Short Stories" IGLOO Records)
« Het spel van Salemi is echter van zulk hoog niveau, zowel emotievol als speltechnisch, en de samenwerking tussen hem en de ritmesectie zo fijn, dat dit trio net zo gemakkelijk tussen al die vernieuwende Belgische bands internationaal grote indruk kan maken. »
(Dick Hovenga – WrittenInMusic)
« Ca fait du bien d'écouter un album de jazz contemporain qui ne cherche pas à tout prix des sonorités inouïes […] La musique est fraîche, joyeuse, dansante »
(Jean-Claude Vantroyen, Le Soir)
« Van begin tot einde zuiver akoestisch zonder electronics en toch klopte het plaatje. Respect! »
(Georges Tonla Briquet, Jazz' Halo)
« Les compositions du leader sont toutes délectables. Non seulement, elles ont du caractère mais, ni démonstratives ni appliquées, elles sont aussi mémorables par leur côté mélodieux »
(Pierre Dulieu, Dragonjazz)
« Voici à coup sûr la belle surprise jazz de la rentrée […] Fragrances variées et complètement assumées […] qui révèle un doigté subtil et volubile à la fois »
(Jean-Pierre Goffin, Vers L'Avenir)
« Martin Salemi est un bel exemple de ce que peut être le jazz aujourd'hui: une musique qui se nourrit de toutes les musiques, libérée de ses carcans d'autrefois. »
(Laurent Graulus, Musiq3)
« Le jeu est soyeux et chaleureux. Entre la contrebasse qui bat le temps en s'offrant quelques libertés et la batterie qui susurre le tempo, la complicité est parfaite."
(Jacques Prouvost – Jazzques)
« On est très loin d'un jazz cérébral et hermétique […] Ce sont des mélodies qui accrochent tout de suite, sans tomber non plus dans la facilité. C'est délicat, ça swingue, tout en finesse […] absolument remarquable. »
(Xavier Vanbuggenhout, RTBF La Première)
« … There's nothing cryptic about his superb playing…»
(Jim Gilchrist, The Scotsman)
Next Concerts
Here you can find my upcoming tour dates. Hope to see you there!
More infos about timing, line-up and a list of past concerts on the concert page.
22/04/2021 – Martin Salemi Quartet – First Set – Livestream
29/04/2021 – Martin Salemi Quartet – Second Set – Livestream
News